Print, web pages and video resources about truckwashing and fleetwash.
If you would like to speak to a large vehicle wash specialist – contact us.
You can also call our on-call chemical sales representative Monday through Friday (excluding holidays) from 8:00 am to 4:00 pm CST. Dial our toll free number 877-866-9742 and select menu option 5.
Links to Pages
Ver-tech Labs Partners with Inter Iberica — Ver-tech Labs partners with Inter Iberica in Mexico. Read about truckwashing in Mexico.
About Foam Maxx Portable Foamers — Looking for information about portable foamers? Foam Maxx portable foamers make truckwashing easier when you don't have access to an automatic truckwash.
About the Foam Maxx Undercarriage Foamer — Low pressure undercarriage application is an easy way to apply anti-corrosion products and sanitizers. The Foam Maxx Undercarriage Foamer is a portable or permanent system that applies products as a large vehicle drives over the system. A simple, economical solution to fight corrosion and meet bio-security requirements.
Ver-tech Labs Truck Wash Magazine Articles
Mass Transit, December 2011
"Protecting Your Vehicles From Corrosion" by Tony Vertin, Ver-tech Labs
Mass Transit, December 2011
Are you aware of the hidden menace that is attacking the inside and outside of your buses and fleet vehicles? The "salt age" is dawning in North America, and road salts are creating an epidemic corrosion problem for America's transit systems. The U.S. Federal Highway Administration released a two-year study on the direct costs of metallic corrosion, "Corrosion Cost and Preventive Strategies in the United States."Read Full Article Here »
"The Monster That's Eating Your Rig"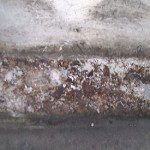 The Monster That's Eating Your Rigs
Dealing with road salt and corrosion is no thing new to Chuck Diehl, fleet manager for Smith's Dairy in Orrville, Ohio. Considering the company's location in the northeast part of the state, "It's always been something that's part of our environment," he says, especially with the 10- to 12-year life cycle they expect out of their equipment.
Ver-tech Labs Truck Wash Presentations
"Cleaning in the Age of Magnesium Chloride"
"Cleaning in the Age of Magnesium Chloride" by Tony Vertin, Ver-tech Labs. Guest speaker at the ATA Technology & Maintenance Council Fall 2011 Conference. Protective coatings are a widely used corrosion control solution and are generally applied at point of manufacturing
Ver-tech Labs Truck Wash Videos
Foam Maxx Undercarriage Foamer: anti-corrosion and bio-security product application
Double Duty – detergent and debugger for truck washing
Clean Trucks Better – Fast and Easy 2-Step Touchless Truckwashing