We have the products to keep your employees and customers safe. Clean and Disinfect with Ver-tech Labs.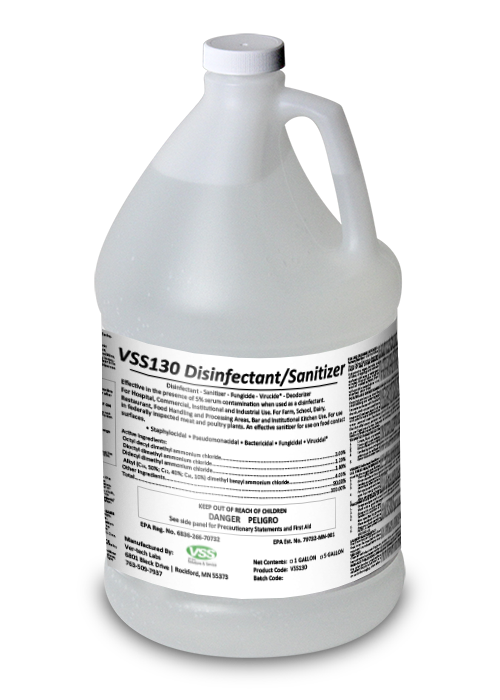 DISINFECTANT
(VSS130)
Our EPA registered disinfectant is for commercial/industrial use.
Active ingredient is quaternary ammonium.
Currently sold in one gallon concentrate form.
One gallon concentrate will make 200 gallons of diluted ready-to-use solution.
Requires a contact time (time surface should remain wet) of 10 minutes or allowed to air dry completely.
Inactivates numerous pathogens when used as directed.
EPA Reg. No. 6836-266-7073
Download information sheet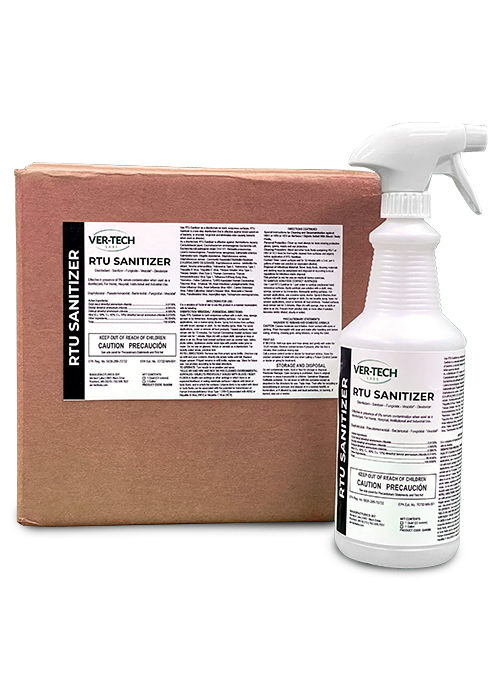 RTU SANITIZER
(SAN500)
RTU SANITIZER, is a ready to use disinfectant registered with the EPA for commercial/industrial use.
The active ingredient is quaternary ammonium.
Hard, nonporous surface disinfectant
Currently available in 32 oz. bottles with spray heads. Sold 6/box.
Inactivates numerous pathogens when used as directed.
EPA Reg. No. 6836-289-70732
(as of 6.03.2020) The sale of an EPA registered product requires specific state level registrations. Currently, SAN500 may be sold to users in  Arizona, Idaho, Iowa, Minnesota, Montana, North Carolina, North Dakota, New Jersey, Pennsylvania, South Dakota and Wisconsin . Additional state registrations will be added as approved.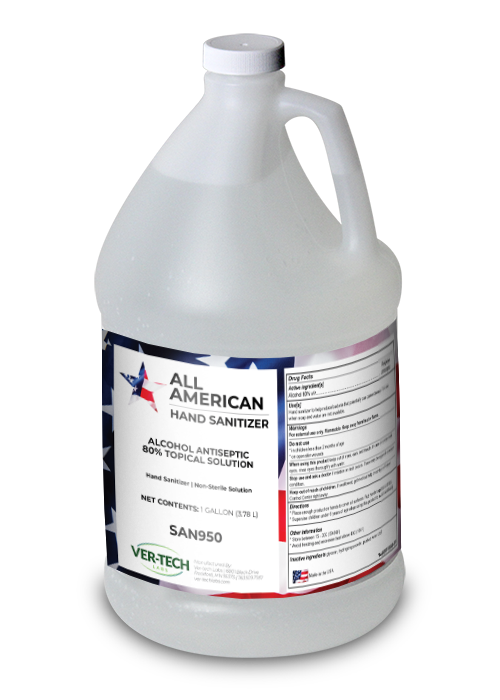 ALL AMERICAN HAND SANITIZER
(SAN950)
FDA approved hand sanitizer available for immediate shipment.
Ethanol based Alcohol Topical Solution – 80%
Available in 1 Gallon – 4×1 gallon boxes
Water thin formula
Manufactured in Rockford, MN
Download information sheet
Center for Disease Control (CDC) Resources
The CDC has many resources available to help you manage your car wash during a pandemic. Below are links to some of the most applicable resources for car wash operations.
CDC Guidance:
How to Clean and Disinfect
CDC Guidance:
FREE POSTERS
CDC Guidance:
MORE FROM THE CDC
FREE, DOWNLOADABLE POSTERS for your Car Wash
Need a poster right away? The following designs are available for immediate download. Sizes available are: 8.5″ x 11″ (printable on a home printer), 12″ x 18″ and 28″ x 44″ (windmaster insert size). The digital files can be used by any graphics business to make new signs.
Many businesses that make signs have free downloadable poster templates related to social distancing and COVID-19. To find more free, generic signs you can print, type SOCIAL DISTANCING SIGNS FREE into your search engine.
If you want the working files for any of our posters, please contact us and we'll provide them.
Re-opening Your Car Wash
Federal and local re-opening guidelines will require businesses to address:
promoting healthy hygiene practices,
intensifying cleaning, disinfecting and ventilation,
ensuring social distancing,
checking employees for signs and symptoms,
plan for when an employee becomes sick.
Car wash owners should carefully review and follow local requirements. Your Ver-tech Labs representative will be happy to recommend practices and solutions that will meet your local guidelines.